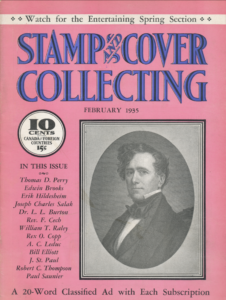 With little fanfare the New Southern Philatelist was replaced by Stamp and Cover Collecting (SCC) in November 1933. This new publication was a larger size and made use of a larger font to reduce eye-strain. Dietz also decided not to compete with other philatelic journals that printed the most current news. Instead he aimed for the SCC to focus on the more researched articles. Unlike the earlier name change this change resulted in the volume number starting at one.
The pages of SCC certainly met Dietz's goal. There are numerous studies of philatelic subjects, mostly national in scope. The pages also contain some of Dietz's best articles. Articles that are comprehensive and which include excellent detailed illustrations. Some of these were articles on the Baton Rouge, Louisiana; Fredericksburg, Virginia; Goliad, Texas; Livingston, Alabama; Marion, Virginia; Macon, Georgia; and Uniontown, Alabama provisionals.
The pages of SCC also presented the idea of a Confederate Stamp Alliance (March 1935 issue). The idea met with Dietz's wholehearted support and he was quick to form the new Alliance the same year. He would continue to use the pages of the SSC to promote the Alliance.
Before the last issue of SCC appeared Dietz decided it was time to close his philatelic publishing career. However, he found that his faithful subscribers did not want to see the end. Relenting to their appeals he decided to continuing publishing a journal. To relieve some of the pressure of publishing a journal monthly, he decided the new journal, Stamp and Cover Collectors Review, would be a quarterly.
Digital copies of Stamp and Cover Collecting can be read by clicking on the volumes below.
This journal is oversize and may take a little longer to load.
Stamp and Cover Collecting
Volume 1 – (Nov 1933 – Oct 1934)
Volume 2 – (Nov 1934 – Oct 1935) – missing No. 7 – May 1935
Volume 3 – (Nov 1935 – Oct 1936)

---

Index to the issues of Stamp and Cover Collecting

Year

Volume:Number / Date

1933

1:1
Nov
1:2
Dec

1934

1:3
Jan
1:4
Feb
1:5
Mar
1:6
Apr
1:7
May
1:8
Jun
1:9
Jul
1:10
Aug
1:11
Sep
1:12
Oct
2:1
Nov
2:2
Dec

1935

2:3
Jan
2:4
Feb
2:5
Mar
2:6
Apr
2:7
May
2:8
Jun
2:9
Jul
3:10
Aug
2:11
Sep
2:12
Oct
3:1
Nov
3:2
Dec

1936

3:3
Jan
3:4
Feb
3:5
Mar
3:6
Apr
3:7
May
3:8
Jun
3:9
Jul
3:10
Aug
3:11
Sep
3:12
Oct

Note: No whole numbers were given for the issues of this publication.