This section describes the Authentication Service and provides information on submitting items for authentication.
Scroll down this page or click a top below for more information
Purpose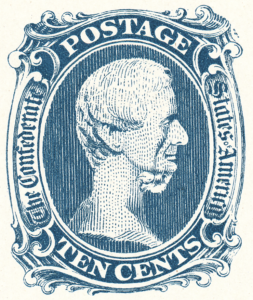 The purpose of the Authentication Service (AS) is to determine the authenticity of Civil War stamps and covers.
Forgeries of Civil War material dates back to the 1860s and are still being produced today. More fakes and forgeries are being produced today than ever before. Some can be quite deceptive; thus authentication continues to be an important service, particularly for higher priced items.
The Authentication Service
The Authentication Service is composed of up to ten members. Items submitted for authentication are circulated among three or more members in addition to the Chairman. Collectors with detailed knowledge of specific areas are also consulted when necessary. If a consensus cannot be reached by the original three members and the Chairman, additional examiners may be consulted. If an overall consensus cannot be reached, a certificate of "No Opinion" may be issued.
Members of the Authentication Service have extensive knowledge of Confederate material and in-depth knowledge of many specialized areas. The Authentication Service also calls upon several consultants with expertise in specialty areas.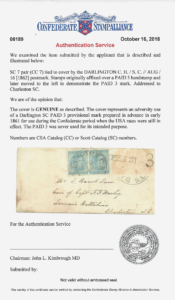 Each item submitted for authentication receives a certificate with a color image on security paper. The certificate is signed by the Chairman of the Authentication Service and embossed with the seal of the Civil War Philatelic Society (Society).
Use of this service is available to both Society members and non-members.
All certificates issued without a photograph are considered void because there is no way a specific item can be tied to a specific certificate. Almost all these types of certificates were issued prior to 1969.
The Authentication Service does not normally render opinions on printing stones or plate stamps. These are time consuming procedures that require very specialized knowledge and detailed references. However, if the 5c lithographs can be easily plated as to stone, that information will be included on the certificate. The 5c lithograph stamps should not be submitted solely for stone plating evaluation. If you have need of such services, we can recommend a source.
The Authentication Service maintains a reference collection of fake and genuine material. The purpose is twofold: It gets dangerous material off the market and it aids in the examination of items. A donation to the Authentication Service Reference Collection is tax deductible. Any item submitted for authentication which is subsequently donated to the Reference Collection within 6 months of a certificate being issued will have the authentication fee waived or refunded.
If you wish to donate material to the Reference Collection contact Stefan Jaronski. The Service seeks genuine, as well as fraudulent material – particularly scarce postmarks, unusual shades or anything that may be used for comparison with submitted items. The Authentication Service Reference Collection is a good home for faulty but scarce stamps and covers.
The Authentication Service Application form contains the conditions and fees for items submitted for authentication. Click here to view, print or download a copy of the Authentication Application Form. Applications are also available from Stefan Jaronski by email.
The Authentication Process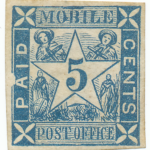 It normally takes 60 to 90 days to complete the authentication process. This may appear to be a lengthy process, but it insures that the item is thoroughly examined with the full resources of each examining member of the Authentication Service.
Non-members must pay in advance. Society members are billed. Click here for the Fee Schedule.
On receipt each item is assigned an item number, scanned and an acknowledgement of receipt is sent to the applicant. A description of the item is prepared, background information gathered, and an opinion worksheet prepared. Items are then placed in a group and forwarded to individual members of the Service. All items are covered by private insurance while in the hands of the Service. The insured amount is the value declared by the applicant.
Each item ends its circuit with the Chairman who reviews the individual opinions. If there is consensus a certificate is prepared and returned with the item to the applicant. If there is no consensus, the item may be sent to other members of the Service or to one or more consultants for additional opinions. In such a situation, the Chairman will review all opinions and issue an appropriate certificate which in some cases may be a "No Opinion" certificate. A digital record is maintained of all certificates issued.
Any item submitted for authentication which is found to be other than genuine can be immediately donated to the Authentication Service and the authentication fee will be waived.
Tips to Speed the Process
If you have done any research on or have other examples of the use represented by your item include copies. If your item is a cover with an enclosure include the enclosure. Note: All supplemental information submitted should be copies as it will not be returned. Only the item and any enclosure will be returned with a certificate.

Click here to view, print or download a copy of the  Authentication Application form.
Current Members of the Authentication Service
Chairman

John L. Kimbrough, MD

Recording Secretary

Stefan T. Jaronski

Members

Kevin P. Andersen
Daniel M. Knowles, MD
Jerry S. Palazolo

Tony L. Crumbley
Randolph P. Smith
Wayne Farley
Richard F. Murphy

Chairman Emeritus

Francis J. Crown, Jr.

Members Emeritus

Patricia A. Kaufmann
Peter W. W. Powell