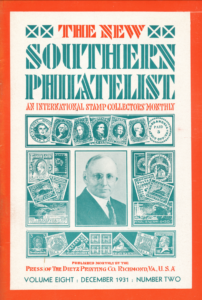 In 1929 August Dietz found that his journal, the Southern Philatelist (SP), no longer had the readership necessary to sustain a commercial philatelic journal. For this reason he changed the name to the New Southern Philatelist (NSP) starting with the November 1929 issue. The volume numbering continued, but there was a major change in the focus of the content. While the earlier publication focused on Confederates the new journal was more general and international in its content. That is not say that Confederates were not included they were, but not nearly to extent they were before.
Dietz's continued passion for Confederates is apparent in the pages of the NSP. By the end of 1929 Dietz completed the serialization of his catalog and it was published as the Dietz Specialized Catalog of the Postage Stamps of the Confederate States of America in 1931. After publication of the catalog he used the pages of the NSP for addenda to the catalog. The final issue in October 1933 brought to an end a nine year run between the Southern Philatelist and the New Southern Philatelist.
---
Digital copies of Southern Philatelist can be read by clicking on the volumes below
New Southern Philatelist
---
Index to the issues of the New Southern Philatelist
Year

Volume:Number / Date

1929

6:1
Nov
6:2
Dec

1930

6:3
Jan
6:4
Feb
6:5
Mar
6:6
Apr
6:7
May
6:8
Jun
6:9
Jul
6:10
Aug
6:11
Sep
6:12
Oct
7:1
Nov
7:2
Dec

1931

7:3
Jan
7:4
Feb
7:5
Mar
7:6
Apr
7:7
May
7:8
Jun
7:9
Jul
7:10
Aug
7:11
Sep
7:12
Oct
8:1
Nov
8:2
Dec

1932

8:3
Jan
8:4
Feb
8:5
Mar
8:6
Apr
8:7
May
8:8
Jun
8:9
Jul
8:10
Aug
8:11
Sep
8:12
Oct
9:1
Nov
9:2
Dec

1933

9:3
Jan
9:4
Feb
9:5
Mar
9:6
Apr
9:7
May
9:8
Jun
9:9
Jul
910
Aug
9:11
Sep
9:12
Oct
Note: No whole numbers were given for the issues of this publication.