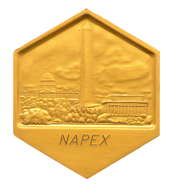 Tyson's Corner – McLean, VA
October 22-24, 2021
Our 2021 Annual Convention will be held in McLean, VA, in conjunction with NAPEX.
Show Hours: Friday-Saturday 10am-6:00pm, Sunday 10am-4pm
Exhibitors setup: Thursday, 4-7 pm
Friday, October 22 Schedule
CWPS Dinner:
American Prime
1420 Spring Hill Rd, McLean, VA 22102
6:30 PM – Social Hour
7:30 PM – Dinner begins
All-inclusive price of $90 per person has a choice of three entrees and two different desserts. Advance reservation and payment are required.
The dinner reservation form was mailed as part of the August CWPS newsletter. It will be sent again in the final annual meeting newsletter around October 1. If you need a reservation form, send email to contact@civilwarphilatelicsociety.org and we will send you one via email.
Dinner Reservation Forms must be received by October 8, 2021. Please make your reservation as soon as possible.
Saturday, October 23 Schedule
Annual Meeting:
9:00 AM – CWPS General Membership Meeting
amphitheater in the lower level of the Hilton.
The membership meeting is being held before the bourse opens at 10 am
Presentations:
11:00 AM: Scott English, APS Executive Director – APS Town Hall
Noon: Richard Livingston – "Chattanooga, Tennessee, During the Civil War"
1:00 PM: James Milgram, MD – "Civil War Patriotic Stationery"
2:00 PM: Daniel M. Knowles, MD – "The American Civil War Captured in 31 Covers"
4:00 PM: Judges' critique of exhibits
CWPS table: Help Needed
The CWPS will have a table in the entryway outside the bourse to greet attendees. We are looking for volunteers to staff it. Contact Randy Smith or Mike O'Reilly and let them know when you can help out.
Hotel Room Reservation:
Lodging: McLean Hilton Tyson's Corner.   7920 Jones Branch Dr., McLean, VA  22102
NAPEX show rate (October 22-24):
$113/night + taxes – (single or double occupancy)
Use rate code NAPEX2
FREE PARKING AND ADMISSION
Make your reservation online at Passkey online room reservation. Do NOT make your reservation on the Hilton website.
Check the NAPEX web site for the latest hotel information and rates.
Exhibits: All exhibit frames have been allocated
Local Host:  Randy Smith (202-669-6889) email: randolphsmith@mac.com