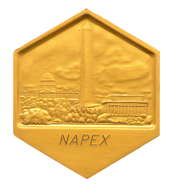 McLean, VA
October 22-24, 2021
Our 2021 Annual Convention will be held in McLean, VA, in conjunction with NAPEX.
Lodging: McLean Hilton Tyson's Corner.   7920 Jones Branch Dr., McLean, VA  22102
NAPEX show rate (October 22-24):
$113/night + taxes
(single or double occupancy)
Use rate code NAPEX2
FREE PARKING AND ADMISSION
Check the NAPEX web site for the latest hotel information and rates.
Local Host:  Randy Smith (202-669-6889) email: randolphsmith@mac.com
Show Hours: Friday-Saturday 10am-6:00pm, Sunday 10am-4pm
The CWPS Dinner will be held Friday evening, October 22.   Location is TBD.
Annual Meeting: The General Membership Meeting will be Saturday morning, October 23, before the bourse opens for business.
Additionally, the CWPS will have a table in the entryway outside the bourse to greet attendees and we are looking for volunteers to staff it
Exhibits: NOW is the time to submit your NAPEX exhibit application
Exhibits are accepted on a first-come basis. This is a World Series of Philately show with 200-250 frames. Show organizers are counting on the CWPS to fill 100 of those frames as the major convening society.
Exhibitors are required to mail six paper copies of the synopsis and title page for the judges by August 30. These can be modified by the exhibitor at a later date.
Exhibit applications can be submitted in one of two ways:
2021 Digital Prospectus – fill in and submit online
Print version 2021 Prospectus (PDF format) – open, download, print, fill out, and mail in
Print version 2021 Prospectus (MS Word) – open, download, print, fill out, and mail in